Thursday, December 18th, 2008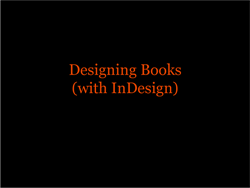 As part of Ffotogallery's Book Arts season, (which included an excellent Artists' Book Fair at Turner House in Penarth, near Cardiff) I was asked to deliver a short course introducing staff and volunteers at the gallery to print design, and specifically book design using Adobe InDesign. The course ran over four days in December 2008 and comprised a fairly basic introduction to using InDesign in print projects as well as a more comprehensive look at book design. In keeping with the ethos of the artist's book we tried to encompass very DIY ways of making books as well as how to get books printed using commercial printing services.
We've uploaded the slides for each day below, as well as our 'recommended reading list' for print design and book design. Underneath that there's a list of links to useful sources of further information.
Course Slides
Day 1 – Setting up print projects, introduction to InDesign
Day 2 – Stocks, getting the most out of your budget, working with printers, more about InDesign
Day 3 – Looking at books, binding options, using multipage features in InDesign, grid systems etc
Day 4 – Sending your work to print, contents pages, indexes and other information management features in InDesign,  using ISBN numbers
Recommended Reading
The Elements of Typographic Style
– Robert Bringhurst
Grid Systems in Graphic Design: A Handbook for Graphic Artists, Typographers, and Exhibition Designers
– Josef Muller Brockmann
Designing Books: Practice and Theory
– Jost Hochuli and Robin Kinross
Adobe InDesign CS4 Classroom in a Book (Classroom in a Book (Adobe))
– Adobe
Japanese Bookbinding
– Kojiro Ikegami and Barbara Stephan
More Information
Stock Suppliers – There's lots of stock suppliers in the UK, some useful ones for getting hold of swatch books include PaperCo and Robert Horne.
Font Suppliers – Again a long list, some of the main ones are MyFonts; Fontshop (who also produce Font Book) and Fontfont
Font Identification Services – I find identifont the most useful – you answer a series of questions about the font (or not if you only have a limited character set in front of you) and get rewarded with one or more 'best guesses'. There's also MyFont's What the Font? service – you upload a jpg or gif image of the font. I've never used this one so don't know how useful it is.
Book design, printing, grid systems – About.com has a good introduction to page impositions and Wikipedia have quite a useful (if incomplete) section about book design.
For grid systems still the best series of articles on the web is Mark Boulton's simple steps to designing grid systems. The New York Times' Book Design Review is great on a regular basis too.
Fonts and Typography – Personal favourites are: I Love Typography; The Elements of Typographic Style (Robert Bringhurst's book applied to the web). The My Fonts newsletters and interviews with typographers are quite useful too.