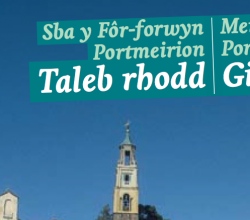 We've been busy doing lots and lots of interesting print and web design work for the Portmeirion Mermaid Spa in North Wales. The Spa is an exciting new enterprise by Lindsay Woodman from the Welsh School of Aromatherapy based in Sir Clough Williams-Ellis' Italianate Village near Porthmadog in Gwynedd.
Amongst other things we've designed:
– The Spa logo and branding – an adaptation of William-Ellis' Portmeirion mermaid. We utilised a soft edged, contemporary font to suggest the relaxed and approachable nature of the spa. The colour scheme refers to the Spa facility as well as the maritime nature of the site (Portmeirion sits on the estuary of the River Dwyryd)
– A bilingual website incorporating a simple online shop, slideshows, news feeds, social media links and lots more besides. The site's fully updateable by staff at the Spa so they can use it to keep customers updated with special offers and new treatments.
– A range of print materials including Price Lists, Marketing Postcards and Business Cards. We also used Moo.com to make some bespoke Gift Vouchers and Stickers, so that the Spa could simply but effectively brand their products. The bulk of the marketing materials were printed using traditional litho services, to maximise the Spa's marketing budget, whilst identifying appropriate uncoated and recycled paper stocks to communicate the Spa's emphasis on organic products and environmental responsibility.
– Simple but attractive product labels for the Spa's range of organic beauty products.
Mermaid Spa Logo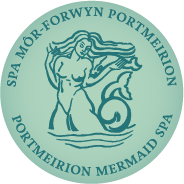 Home Page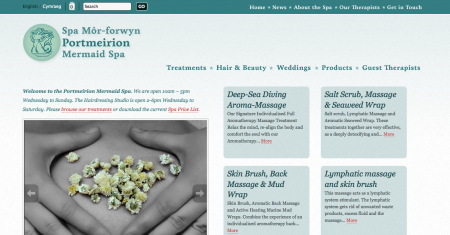 Products Section