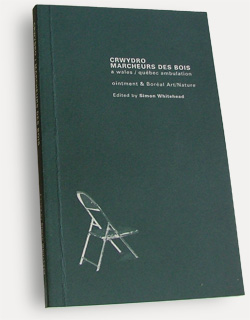 Crwydro/Marcheurs des bois is a pocket-sized paperback book which documents an artists' residency exchange project between Welsh and Quebecois artists in 2003 and 2005. The book isn't a catalogue as such but instead forms the next stage in an ongoing conversation between the artists. It's also trilingual, including texts in English, Welsh and French. There's two essays, one by north Wales based writer, poet and Poetry Wales editor, Zoe Skoulding, the other by writer, artist and canoe aficionado Daniel Poulin, as well as diverse texts by the artists: Simon Whitehead, Ben Stammers, Maura Hazelden, Pete Bodenham, Stefhan Caddick, Stirling Steward, Jeane Fabb, Tedi Tafel, Francois Morelli, Daniel Poulin, Julie Durocher and Sylvie Tourangeau.
Oh and it's 116 pages long, 110mm wide and 180mm high (so it fits snugly into a pocket) all beautifully printed on 100% recycled paper stock.
Excerpt from the Preface by Simon Whitehead:
Crwydro and Marcheurs des bois involved a group of artists from two continents in a series of flights and forages into two remote and contrasting territories. The searches were often random, and involved a process of group and solo expedition, in which each artist sought a way to bring their practice into a relationship with what was found.
Originally, these projects emerged from a conversation between artists Jeane Fabb, Tedi Tafel and myself at the International Symposium on Ecology and Performance 'Between Nature' at Lancaster University UK, in 2000. Continuing online and through a residency at the artist-run centre Boreal Art/Nature in La Minerve, Quebec in 2001, the dialogue culminated in two place-engaged residential exchanges between artists groups from Wales and Quebec.
The artists from ointment and Boreal Art/Nature completed these major field adventures in the spring of 2003 and the winter of 2005. In Crwydro (Wander), the artists were based in a small centre in the Preseli Hills of west Wales, responding to and engaging with the conditions, both collectively and individually. Marcheurs des bois (Walkers of the woods) was held in the depths of the Quebec winter on a wildlife reserve and frozen lakes within the Laurentian forests. Both phases of this collective immersion used walking as an impetus for the integration and development of ephemeral art in the surrounding environment. Both expeditions culminated in public showings within their respective rural communities.
Details:
Crwydro / Marcheurs Des Bois: A Wales Quebec Ambulation edited by Simon Whitehead.
Paperback: 116 pages.
Published by Shoeless.
ISBN: 978-0955402029
More about Crwydro / Marcheurs des bois on amazon.co.uk
Marcheurs des bois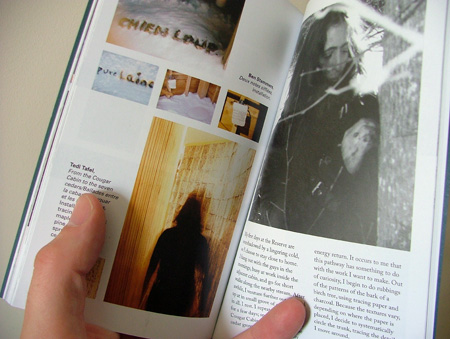 Spread showing video stills by Sylvie Tourangeau (left) and drawings by Francois Morelli (right)