papergecko: Web Design & Artists' Books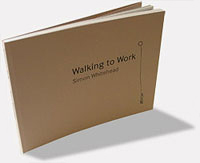 Hello, we're a small web and print design company, based in Crickhowell, South Wales and run by artist and designer Stefhan Caddick.
We build websites for arts organisations, artists, non-profits, the voluntary sector and small businesses.
We love usability, accessibility, WordPress, sticking to budgets, open source, the web, bilingualism, recycled paper and space flight.
We also design for print. We've made maps, sticky labels, cardboard bricks, business cards and postcards (amongst other things), but we specialise in short run books for artists and arts organisations. These range from lavish, cloth bound hardback books to pocket-sized paperback publications.
If you'd like to discuss a project, get a quote, or just for a chat, please get in touch, we'd love to hear from you!
Recent Work
Jeremy Steward . Jeremy Steward is a craft potter based in Herefordshire, and one of the key people at Wobage Farm Craft Workshops. Having helped Jeremy consolidate Wobage's marketing for its workshop programme, Jeremy was also keen to create an attractive, distinctive site to use to promote his own ceramic work. Jeremy's working process (including salt-glaze and wood firing) immediately marks out his work as distinctive within his field, and something which we tried to The handbuilt nature of Jeremy's ceramics was also something which we wanted to mirror within the design. Jeremy commissioned a letterpres [...]
Books

Crwydro / Marcheurs des bois is a pocket-sized paperback book which documents an exchange between Wales and Quebec based artists in 2003 and 2005. Texts by Zoë Skoulding and Daniel Poulin.
Crwydro / Marcheurs des bois edited by Simon Whitehead. Paperback: 116 pages. Published by Shoeless. ISBN: 978-0955402029
More about Crwydro / Marcheurs des bois on amazon.co.uk

Lost in Ladywood comprises four walks around the Ladywood area of Birmingham by movement artist Simon Whitehead. Photographs by Phil Martin.
Lost in Ladywood by Simon Whitehead. Paperback: 80 pages. Published by Shoeless. ISBN: 978-0-9554020-1-2
More about Lost in Ladywood on Amazon.co.uk

Dudley: A Critical Path, part of the Making Sense of Places series is a fold-out 'critical path' around Dudley by artist and designer Gerard Mermoz.
Dudley: A Critical Path by Gerard Mermoz. Paperback: 2 pages. Published by MADE. ISBN: 978-0955287916
More about Dudley: A Critical Path on Amazon.co.uk

Market Drayton: A walk in the company of a Horticulturalist, part of the Making Sense of Places series is a 48 page walking guide to Market Drayton by horticulturalist Pamela Smith.
Market Drayton: A walk in the company of a Horticulturalist by Pamela Smith. Paperback: 48 pages. Published by MADE. ISBN: 978-0955287923
More about Market Drayton: A Walk in the company of a Horticulturalist on Amazon.co.uk

Rugby: A walk through the town, looking up, part of the Making Sense of Places series is a fold-out walking guide to Rugby by artist Eric Gaskell. The aim was to rediscover the town, not from a typical historical or tourist perspective, but from an alternative local viewpoint.
Rugby: A walk through the town, looking up by Eric Gaskell. Paperback: 2 pages. Published by MADE. ISBN: 978-0955287930
More about Rugby: A walk through the town, looking up on Amazon.co.uk

Tamworth: A walk in the company of Young People, part of the Making Sense of Places series is a 42 page walking guide to Tamworth by textile artist Claire Wood.
Tamworth: A walk in the company of Young People by Claire Wood. Paperback: 42 pages. Published by MADE. ISBN: 978-0955287947
More about Tamworth: A walk in the company of Young People on Amazon.co.uk

Walking to Work chronicles the recent work of west Wales based performance artist Simon Whitehead.
Walking to Work by Simon Whitehead. Paperback: 80 pages. Published by Shoeless. ISBN: 978-0955402005
More about Walking to Work on Amazon.co.uk