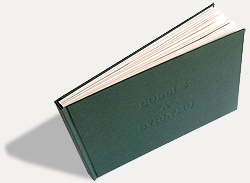 Bubble a Byrlymu is a limited edition artist's book by Helen Clifford and Richard Powell. The book offers the artist's individual reaction and reinterpretation of the St Fagans National History Museum, an open–air museum located on the outskirts of Cardiff which features historically significant buildings from across Wales which have been relocated to the museum and painstakingly re-erected.
The book is the result of an extended period of research undertaken by the artists at the museum, and contributes "to the debate of what St Fagans is and what it represents for others". It includes texts by Michael Tooby and Simon Unwin, hand-made blind embossings by Robert Pitwell an eight page fold-out section, 6 perforated postcards and an eight page 'book within a book'.
The book was produced in two versions: a hand-made, hardbound and blind embossed limited edition artist's book (45 copies) and a reproduction version (400 copies). Both should be available from the National Museum of Wales' bookshop (although they're not currently listed on the website).
Papergecko were involved in the production of the book from the outset, offering advice to the artists on editing, structure and creating a narrative from the disparate content. Once a loose edit had been achieved, we then took on the work of fine-tuning the rough scans of material and finalising the edit.
ISBN: 0720005760
80 Pages