Friday, January 25th, 2008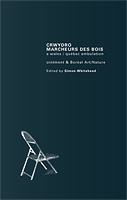 For about six months now we've been working on a great project which has thrown up some very interesting, if problematic design challenges. The project is an international, trilingual (English, Welsh and French) book called Crwydro / Marcheurs des bois.
The book documents an exchange between west Wales based artists collective ointment and Boreal Art/Nature, who are based in the wilds of Quebec. The exchange involved two residencies: one in the stunning, moss covered Ty Canol woods near Pentre Ifan in Pembrokeshire in a balmy April; the other in the ice-bound frozen landscape of Reserve Faunique Rouge Matawin, Quebec, in February.
The book gives the projects a new dimension, continuing some of the discussions begun during the residencies and enabling the artists to revisit and reflect on their various working processes.
One thing we're very pleased about is the book format, which avoids standard practice for artist's catalogues, instead opting for a pocket sized, 112 x 180mm. Shrinking the format necessitated an increase in the page count and, at 116 pages there's plenty of room for an exchange of views.
We're hoping to go to print early in February and will, of course, post details as soon as the publication is ready.