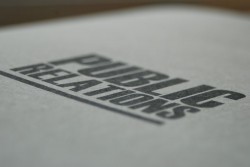 We're launching a new, limited edition publication by photographers Martin Parr, Paul Shambroom, Sarah Pickering and Dan Holdsworth tomorrow (17th Oct 2012) at the National Museum of Wales, Cardiff, as part of the museum's Joan Fontcuberta: Photography in Crisis event.
The publication is large format – 290 x 390mm and comes in seven parts – 4 large scale ( 980mm wide) posters by Paul Shambroom and Dan Holdsworth and two loose leaf magazines by Sarah Pickering and Martin Parr. It's packaged in custom printed bright yellow polyurethane. The images are accompanied by an essay by curators Russell Roberts and Emma M Price. The publication was supported by University of Wales, Newport, St David's, Safle and the European Centre for Photographic Research. Printing by Gomer Press in Llandysul.
If you can't make the launch but are interested in buying a copy of the publication, drop us a line and we'll find out where they're going on sale. The limited edition is 800.
The event is free but you need to book. More pictures on our Facebook page.